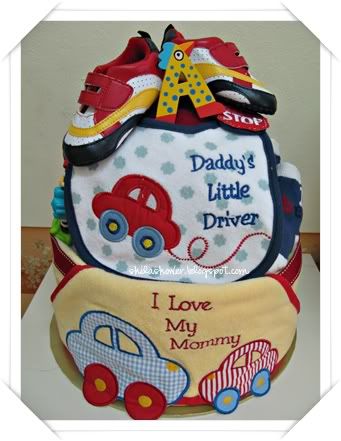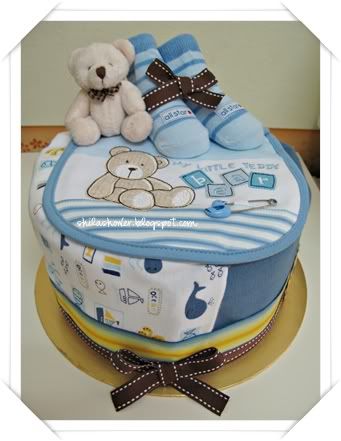 Here my second and third creation which made a total of three diaper cakes that I baked last week. Seriously I love making diaper cakes because every bit about preparing it is so my thing! Shopping *ehem, you have to buy the baby items remember?*, decorating and crafting, everything falls under my list of interests.
I guess some may ask, "WHAT IS DIAPER CAKE??" Is it a real cake on the inside? Is it a fondant cake that gets covered by baby items instead of decorative fondant icing? No darlings. We called it diaper cake because it is made from baby diapers and loaded with a little of everything (onesie, socks, blanket, towel, bib & etc.) So, not a edible one but pack of diapers arranged to look like a cake. Between, you don't need a specific recipe whatsoever to bake the cake except a whole lot of creativity and passion. :)
And another frequently asked question that has been filling up my FB inbox is, "HOW MUCH?" Frankly speaking, I don't have any specific price for this. Economy or premium, it's your choice as I will bake the cake within the budget given by customer and a very small service fee charged to it. Small and reasonable, trust me ;)
But if you plan to have specific brands added to it, say Fisher Price, GAP, Mothercare, Pumpkin Patch and etc, obviously the price won't be anything less than RM100 kan? But worry not, price charged is mainly to cover the baby diapers and baby items and not the freaking expensive service fee. Tak percaya? Order lah satu! Kuikuikuikui....
Anyway, I can't help feeling happy with all the good reviews received on Facebook. :P *Thank you thank you* And thank you so much for my first three customers who trusted my creativity in baking the cake. Hihi...